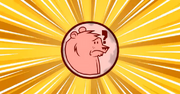 Waneyihtam Maskwak (also known as Team Maskwak) is one of the two opposing teams on Total Drama: Pahkitew Island. It's logo consists of a red Bear. The members of this team are Beardo, Dave, Ella, Leonard, Shawn, Sky and Sugar. Max is switched over to this team in This Is The Pits!, in exchange for Sky going over to Team Kinosewak.
Total Drama: Pahkitew Island
Edit
Beardo, Dave, Ella, Leonard, Shawn, Sky, and Sugar are put on Team Maskwak on So, Uh This Is My Team?. They are seen somewhat struggling in the challenge, but lost when Leonard caused their building to collapse. Beardo and Leonard were the botton two, with Beardo being voted off because his sounds were annoying everyone.
Leonard again causes their team to lose the challenge in I Love You, Grease Pig, and he was in the Bottom 2 with Ella, but he was voted off.
The team is doing a lot better in Twinning Isn't Everything without Leonard, but tension grows between Ella and Sugar, and with Sky being somewhat distracted by her crush on Dave. Despite everything, they manage to complete the challenge well, and they win for the first time in the season.
Additional Members
Edit
In This is The Pits, Chris makes Sky and Max switch teams.
Eliminations
Edit
Contestant

Gender

Rank

Team rank

Episode

Reason for elimination

Beardo

Male

14th

7

th
So, Uh This Is My Team?
His lack of contribution in the challenge and his constant noise making annoyed his teammates.
Leonard
Male
13th

6

th
I Love You, Grease Pig
He was voted of because of stalling in the challenge and caused his team's downfall.
Ella

Female

9

th

5

th
Mo' Monkey Mo' Problems

Max was originally voted off, but Sugar caused Ella's disqualification by sending Chris information that Ella sang during the challenge.

Dave
Male
7th
4th
Hurl and Go Seek!
After being rejected by Sky, Dave got depressed and voted himself out of the competition
Max
Male
5th
3rd
Scarlett Fever
He kept insisting that he is the antagonist of the season causing Chris to be annoyed and chose to get rid of him.
Sugar
Female
3rd
2nd
Pahk'd With Talent
She received to the lowest score and was eliminated.
Shawn
Male
1st/2nd
1st
Lies, Cries And One Big Prize
He was declared the winner by making it to the finish line before Sky.
This is the first team in Total Drama history to be the superior team but lose the first challenge of the season.
This is the second red team to be the superior team out of the two, the other being the Mutant Maggots.
The first person voted out at the merge was part of this team.
The highest and lowest ranking person of this team are both males.
The English name for this team is "Confused Bears".
Community content is available under
CC-BY-SA
unless otherwise noted.