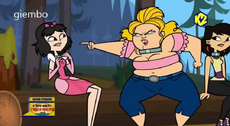 This article focuses on the interactions between
Ella and Sugar
.
Being placed on the same team, Ella and Sugar are often seen together in challenges. Their conflict begins early on in the season, as Sugar becomes very annoyed with Ella for various reasons, such as "stealing" her glitter and also for Ella's constant singing. Though Ella is greatly disliked by Sugar, she seems to sincerely want to be Sugar's friend and is constantly trying to make Sugar smile - which adds on to Sugar's hatred of her. Ella is eventually disqualified from the competition after Sugar tattles on her, putting the one-sided conflict to a halt.
Sugar and Chris both believe Ella is provoking Sugar, though in reality, Ella tries to befriend Sugar who rejects her advances constantly, after pushing her off the log and shoving her into the dirt, Sugar accuses Ella of usually her pageant talk, and has to be hld back by her other team mates.
When Rodney and Ella are competing in the tie breaker, Sugar encourages Rodney to electrocute her, even if they are all electrocuted she admits that it is worth it.
As the teams compete in the challenge, Max electrocuted Ella with help from Scarlett. Sugar, from the sidelines, laughs at Ella's misfortune. When Ella gets hurt later on in the challenge, Sugar laughs again, clearly happy that Ella had been hurt.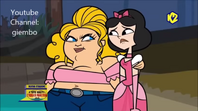 As the teams are meeting for the challenge, Ella is shown to be very upset. Ella explains that she is heartbroken causing Sugar is laugh. After their team's designated monkey is eaten by a bear, Sugar suggests that Ella sings to sooth it and take it back to the campgrounds. Later at the elimination ceremony, Chris announces that Ella is disqualified from the competition after he recieved an annoymous note from someone that revealed that Ella sang. Sugar reveals in a confessional that she was the one to write the annoymous note. As Ella is saying goodbye to everyone, she tells Sugar to be happy and not upset that she is leaving, to which Sugar says she will be.
Both are the only two to have visible eyelashes in their promo pictures.
Community content is available under
CC-BY-SA
unless otherwise noted.